Communities
Creating your own community is too complex? Not any more.
Communities without limits
Everything begins with amazing individuals.
Don't settle for stale 'off the peg' groups of randoms. Instead create a community that is perfect for your unique requirements.
Build teams of external or internal individuals, or a mix of both.
No limits
Create unlimited numbers of communities for events, one-off high intensity projects, or lower intensity on-going engagements.
Yours and yours alone
The communities your create and the individuals you recruit are private; only you have access to their insight and expertise. Think of them as your secret super power – partners, not data points.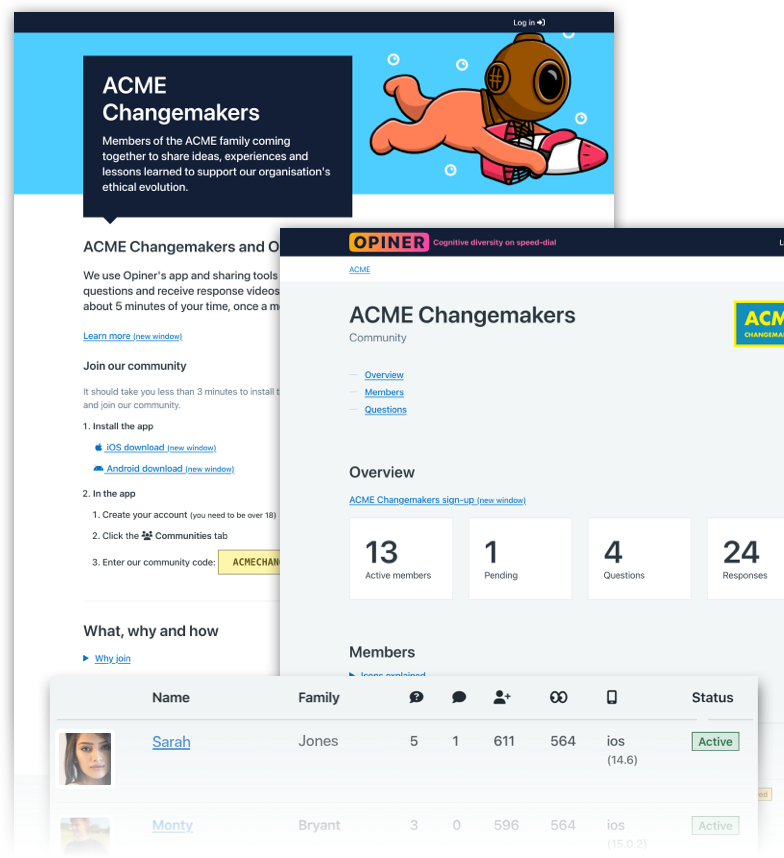 Example community sign-up page and community management page in Adminland.
Building a community in 3 simple steps
1. Create

Each community has its own sign-up page detailing the 'what, why and how', bespoke copyright and privacy policy and invitation code.

It takes 15 minutes to create a community sign-up page.

2. Invite

Share the sign-up page with anyone you want to join. Interested individuals install the app, enter the invite code and answer the welcome question.

It takes just 3 minutes to join a community.

3. Approve

Watch the welcome question responses and then approve, wait-list or reject applicants.

Reviewing and approving applicants in seconds.
No time to build your own community?

No problem. We can recruit and manage a community for you.

Alternatively put your question to one of our pre-built communities of experts and outliers: The Street or Brain Trust.

Contact us to discuss your requirements.