Mission
Get video from those who don't normally give it, seen by those who normally wouldn't see it.
Why video?
Video drives change.
Video engages like nothing else with its combination of insight and emotion. Video makes people lean in, it makes people care, it excites and it inspires.
Use Opiner to complement your traditional, data-driven activities.
Video is hard Video is easy
Conventional vs. Opiner
---
Video is hard to get
People are busy, they see little in return for their efforts and they worry about the risk of misrepresentation or criticism. As result they don't engage and you miss out on important input.
Video is easy to get with Opiner
The Opiner app allows responders to opt-in in seconds and record a video from their device at a time that suits them
Responders are part of a valued community that receive ongoing feedback and rewards. Your community will want to give you their thoughts and be part of the solution
Opiner provides a secure, private environment where videos cannot be shared without prior consent
---
Video is hard to process
Complex software and specialist skills are required to review responses and edit together highlights. This is expensive and slow.
---
Video is hard to share
The challenges of big files, third-party hosting, access issues and the time constraints of busy people all act as blockers.
Video is easy to share
With Opiner questions, responses and highlights are automatically collated in a single WonderWall (optimised for mobile and desktop) that can be, with full access controls, shared with one-click.
Save 90%
Achieve in minutes what previously took days
Video for all stages
Anyone in any part of any organisation can produce video insights at any stage. Use Opiner throughout a project's lifecycle; from discovery to problem solving and delivery. View more use cases.
Where and when

See

(Research)

Do

(Design)

Be

(Delivery)

Explore
Understand
Empathize

Co-create
Validate
Iterate
Communities without limits
Creating your own community is too complex? Not any more.
Everything begins with amazing individuals.
Don't settle for stale 'off the peg' groups of randoms. Instead create a community that is perfect for your unique requirements.
Build teams of external or internal individuals, or a mix of both.
No limits
Create unlimited numbers of communities for events, one-off high intensity projects, or lower intensity on-going engagements.
Yours and yours alone
The communities your create and the individuals you recruit are private; only you have access to their insight and expertise. Think of them as your secret super power – partners, not data points.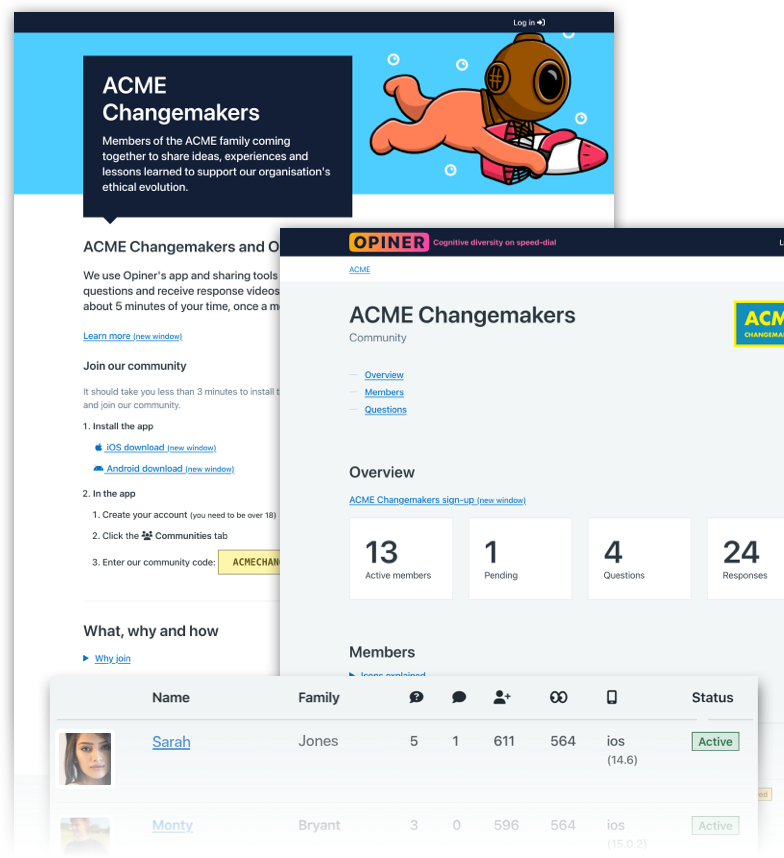 Example community sign-up page and community page in Adminland.
4 ways to incentivise participation

When creating a community the first question to address is 'Why should I join - what is in it for me?'

You're asking responders to give up 10 minutes of their time to submit a 3 minute response and to put their opinions out there.

Incentive options

Choose a combination of 4 possible incentives:

Participation – more often than not people are simply happy to be involved, heard and valued and to help shape outcomes and be part of the solution
Insights sharing – allow responders to see each others response. Raw opinion is highly valued, especially in communities of professionals
Donation – offer to make a donation to a cause(s) you nominated for each response*
Payment – payment for each response*

*You specify the payment and donation amounts on a question by question basis. As a guide at Opiner we offer our communities a choice of £15 or a donation of £30 for their 3 minute response. This equates to a rate of £90 / £180 per hour.
Building a community in 3 simple steps
1. Create

Each community has its own sign-up page detailing the 'what, why and how', bespoke copyright and privacy policy and invitation code.

It takes 15 minutes to create a community sign-up page.

2. Invite

Share the sign-up page with anyone you want to join. Interested individuals install the app, enter the invite code and answer the welcome question.

It takes just 3 minutes to join a community.

3. Approve

Watch the welcome question responses and then approve, waitlist or reject applicants.

Reviewing and approving applicants in seconds.
No time to build your own community?

No problem. We can recruit and manage a community for you.

Alternatively put your question to one of our pre-built communities of experts and outliers: The Street or Brain Trust.

Contact us to discuss your requirements.
One-stop shop
Your self-serve, end-to-end solution for community management and insight sharing.
The three pillars of the Opiner platform: Responder App, Adminland and WonderWall.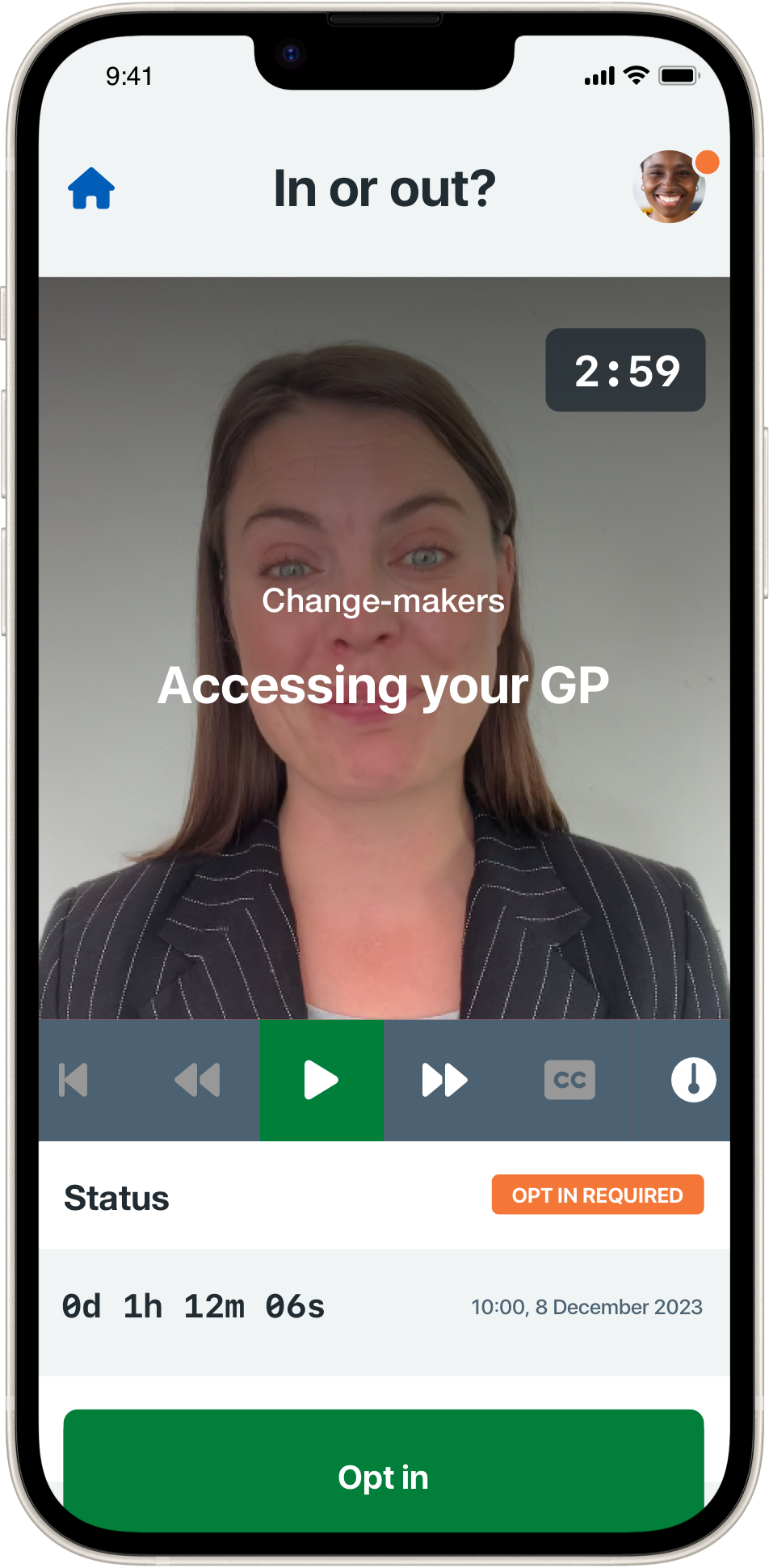 Responder app
Put questions to and receive responses from your community.
Features
Native app - iOS (new window) and Android (new window)
Question distribution
Alerts and notifications
Opt in / out
Response submission (inc. compression)
Incentive selection
Insight sharing*
Account and profile management
Bookmarker
Quickly and easily mark the best sections of a response for sharing.
bookmarks are linked to individual authors and departments to enable quick and easy filtering in Playlister.
Example: your sales team can mark clips relevant to a pitch and your research team can identify clips relating to a client project.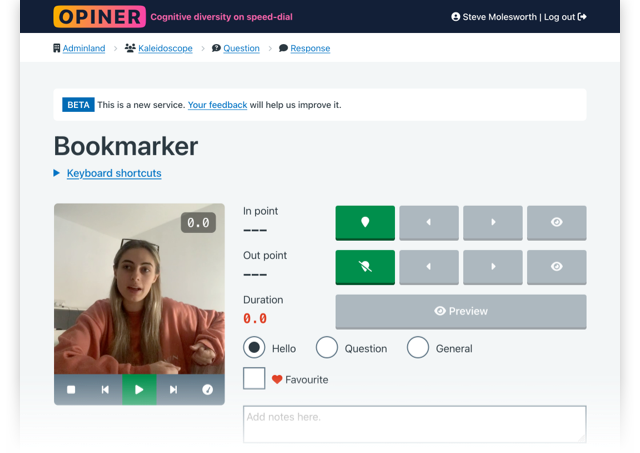 Playlister
Select and sequence bookmarks previously created (in Bookmarker) to create a playlist. It's as simple as ordering slides in PowerPoint with drag and drop.
Create infinite numbers of playlists from the same core bookmarks.
Possible playlists for different scenarios
Short and punchy for busy leadership teams (what)
Emotionally rich for engagement (why)
Insight led for solutions (how)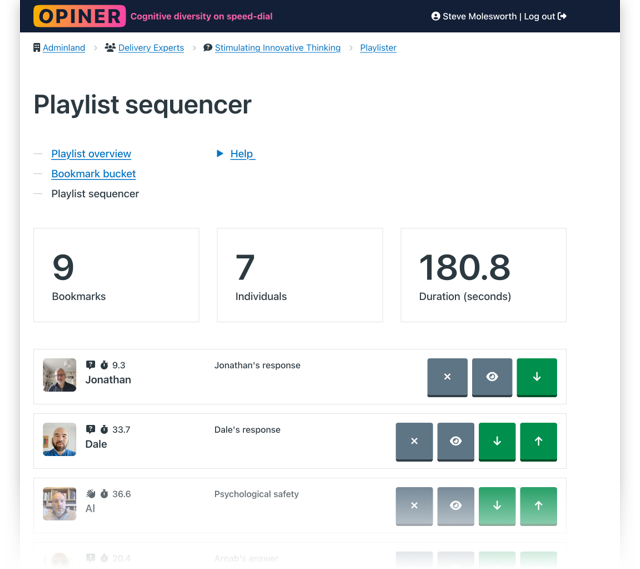 Privacy, security and simplicity
Privacy, security and simplicity are the three pillars against which all elements of the Opiner platform are measured.
Opiner removes the legal and governance hurdles that prevent organisations from utilising video insight.
Included as standard
GDPR compliant
All data held in UK
Banking grade infrastructure (Microsoft Azure)
Ethical – transparency and fair rewards for participation
Secure (encrypted) in-app payment options
Accessible – built on GDS frontend and service design principles
One-click usage rights and copyright agreements
UK support team (telephone and online)
Use cases
Research
Citizen engagement
Participatory research
User research
Discovery sessions
Ethnographic studies
Field reports
Diary studies
Empathy building
End user surveys
Focus groups
Spotting sessions
Stakeholder interviews
Design
User centred design
Co-design
Co-creation
Co-production
Workshops
Brainstorming
Iteration
End user testing
Validating
Design critiques
Peer review / evaluation
Pitching (internal, external)
Presentations
Delivery
Vision setting
Project premortems
Business benefits analysis
Risk radar (RAID)
SWOT analysis
Impact assessments
Proposal evidence
SoW shaping
Project kick-offs
Programme updates
Continuous improvement
Sprint retros
Project postmortems
Operations
Communication
Storytelling
Advisory panels
Shadow boards
Events
Conferences
Presenter introductions
Audience question
Meet the team
Team collaboration
Round tables
Team feedback
Training
Appraisals
Marketing
Podcasts
Video rough cuts
Sales
Industries
Healthcare
Education
Local Government
Finance
Design
Research
Consultancy
Journalism
Events / conferences
Professional networks / industry bodies
Project / programme delivery
Sectors
Public
Private
Third / Charity